2016 Mountain State Forest Festival
Celebrate Appalachia – Banjos, Burgers, and Beer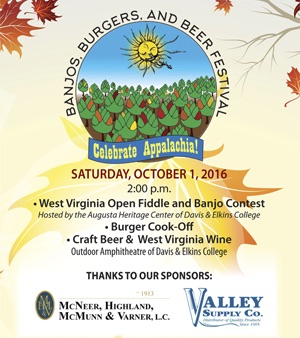 October 1, 2016 @ 2:00 pm
West Virginia Open Fiddle and Banjo Contest hosted by the Augusta Heritage Center of Davis & Elkins College
Burger Cook-Off
Craft Beer & West Virginia Wine
12:00 noon: Registration for the West Virginia Open Fiddle and Banjo Contest
Outdoor Amphitheatre of Davis & Elkins College
Elkins, WV 26241
The West Virginia Open Fiddle and Banjo Competition began in the early 1930s as part of the Mountain State Forest Festival. It was revived in 2007 when the Augusta Heritage Center teamed up with the Randolph County Fair Association. Last year, the contest was organized by Augusta on D&E campus, and this year the contest's history comes full circle as the Mountain State Forest Festival and the Augusta Heritage Center collaborate to organize the contest.
The WV Open Fiddle and Banjo Contest has always been an "open" competition, meaning that contestants are not required to be West Virginia residents to participate. Over the history of the contest, this has provided opportunities for local and regional musicians to compete alongside their peers from around the country, and it has brought national recognition to the contest. Registration will begin at 12:00 noon and the contest will start at 2:00 p.m. Five prizes will be awarded in fiddle, old-time banjo, and bluegrass banjo, as well as a best senior musician prize for age 60 and older, and a best youth musician prize for age 15 and younger.
The contest celebrates the rich, traditional music heritage of our mountain home, and it is fitting that it will once again be part of the Mountain State Forest Festival. The WV Open Fiddle & Banjo Competition showcases some of the most talented and dedicated traditional musicians in our area, and has the potential to draw participants and spectators from outside the state as well. Celebrating this music promotes pride within the local community for our shared cultural heritage, and demonstrates its significance to visitors of all kinds.
To breathe some new energy and excitement into the 80th Mountain State Forest Festival, this event will also feature the beer/wine festival, following a successful inaugural event during the 79th Mountain State Forest Festival. Another feature will be a burger cook-off, playing off the chicken wing cook-off event(s) that have taken place during the Mountain State Forest Festival over the past few years. To round out a great day, The High Ridge Ramblers' will take the stage. Showcasing the beauty, history, and fun-loving nature of Appalachia with twisty mountain tunes, early bluegrass ballads, old-time songs, and hard-driving fiddle tunes. In the end, don't miss Celebrate Appalachia!-Banjos, Burgers, and Beer Festival!
Inclement Weather Location: Elkins Recreation and Event Center (the former Elkins National Guard Armory)