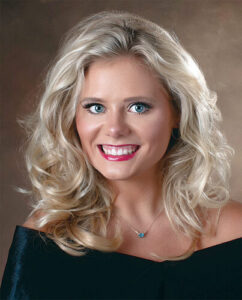 Mountain State Forest Festival Director Robbie Morris has announced Anastasia Jones-Burdick will serve as a Princess to the Royal Court of Maid Silvia LXXXIV, Caroline Marie Fluke.
Jones-Burdick was appointed by U.S. Congressman Carol Miller and is the daughter of Hoyt and Amy Burdick of Huntington. She is the granddaughter of Robert and Mary Jones of Huntington.
Jones-Burdick is a 2019 graduate of Huntington High School, where she was salutatorian, Student Body President, Distinguished Young Woman of WV, and participated in WV Rhododendron Girls State. She was the President of Key Club, Latin Club and Spin Club. Awards included Distinguished Honors Program graduate, National Honor Society, Mu Alpha Theta and Miss Highlander.
In the fall, she will be a senior at University of Mississippi Honors College majoring in public policy leadership, psychology and minoring in journalism. She is a Doris Raymond Scholarship recipient, Associated Student Body Liberal Arts Senator, Chairman of Inclusion & Cross-Cultural Engagement, Director of External Affairs of Grover Grocery (UM food bank), VP of Community Program for Office of Fraternity & Sorority Life and Legislative Intern for Sen. Joe Manchin. She is a member of Delta Gamma, Omicron Delta Kappa and Lambda Sigma honor societies.
Please join Anastasia Jones-Burdick and the other Royal Princesses as they descend Coronation Hill at the crowning of Maid Silvia LXXXIV, Caroline Marie Fluke, during the Coronation Ceremony at 2 p.m. on Friday, Oct. 7 at the Outdoor Amphitheatre of Davis & Elkins College.