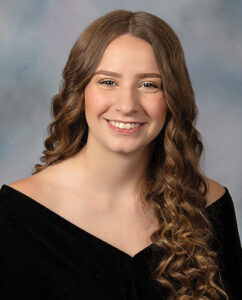 Mountain State Forest Festival Director Robbie Morris has announced that Haleigh Marie Riggleman will serve as a Princess to the Royal Court of Maid Silvia LXXXIV, Caroline Marie Fluke.
Riggleman was appointed Secretary of State Mac Warner and is the daughter of Larry and Brenda Riggleman of Beverly. She is the granddaughter of Floyd Riggleman and the late Sylvia Riggleman of Beverly, and Raymond Hamrick and the late Virginia Hamrick of Elkins. She has one sister, Sarah Riggleman.
Riggleman is a 2021 graduate of Elkins High School, where she was in the National Honor Society, Student Government and was in the top 10% of her class. She lettered three years in basketball and one year in volleyball. She was an honor roll student and was a homecoming princess her senior year.
She is a teller at Citizens Bank of West Virginia and is a member of Landmark Baptist Church