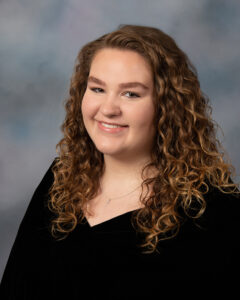 Mountain State Forest Festival Director Robbie Morris has announced that Abigail Lynnlee Hannan will serve as a Princess to the Royal Court of Maid Silvia LXXXIV, Caroline Marie Fluke.
Princess Abigail Lynnlee Hannan was appointed by Mountain State Forest Festival President Ben Shaffer. She is the daughter of Steve and Connie Hannan of Elkins. She is the granddaughter of Terry and Dorothy Biller of Elkins and the late Raymond "Red" and Mildred Hannan of Elkins.
Abigail is a 2021 graduate of Elkins High School, where she was an Honor Roll student and a member of the National Spanish Honor Society. She also served as the Vice President of the National Honor Society and President of the Elkins FFA. Princess Abigail is a sophomore at West Virginia Wesleyan College where she is majoring in Biology with minors in Chemistry and Honors. She was named a WV Scholar finalist, recipient of the WVWC Presidential Scholarship and a WVWC service scholar. She is also a member of the Honors Program, the Alpha Lambda Delta Honors Society, SURE summer research student, and has been named to the Presidents List.
Please join Abigail Lynnlee Hannan and the other Royal Princesses as they descend Coronation Hill at the crowning of Maid Silvia LXXXIV, Caroline Marie Fluke, during the Coronation Ceremony at 2:00 p.m. on Friday, October 7, 2022 at the Outdoor Amphitheatre of Davis & Elkins College.
The 84th edition of the Mountain State Forest Festival with the theme "A Mountain Mosaic" will take place Saturday, October 1, 2022 -Sunday, October 9, 2022. For more information, please visit the Mountain State Forest Festival website at www.forestfestival.com or call 304-636-1824