October 11, 2022
By Brad Johnson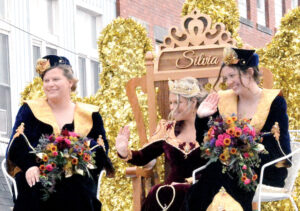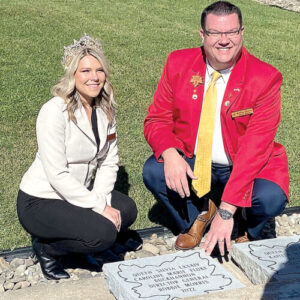 ELKINS — After being delayed for three years due to the COVID-19 pandemic, Mountain State Forest Festival officials celebrated the completion of a successful 84th festival with the official closing ceremonies Sunday afternoon.
The ceremonies, which took place at the Jennings Randolph Federal Plaza, were "a long time in the making, and one that, at times over the past three years, I admittedly wondered if it would ever come," MSFF Director General Robbie Morris said during an emotional speech.
Morris honored the legacy of John Zirbs, affectionately known as "Mr. Forest Festival,"who passed away in 2021.
"John would either wear a Scooby Doo tie or a Tazmanian Devil tie to closing ceremonies,"Morris said. "He knew it was an emotional event for all in attendance, especially the speakers, so he would wear these ties, and if someone started to tear up, he'd say, 'Aw, don't cry. Look at my tie.'"
"Today I've had a Tazmanian Devil tie placed on a chair in memory of John."
During Sunday's ceremony, when a speaker would become emotional, they would look to the chair and mention how the tie gave them strength and focus to finish their remarks.
Morris thanked all the assistant directors and the volunteers who helped make the 84th festival a reality, and also thanked the local first responders who were an integral part of so many events throughout the week.
He also thanked and praised Queen Silvia LXXXIV Caroline Marie Fluke and Maids of Honor Hannah Lee Phillips and Sarah Diane Riggleman for their poise, energy and good humor while serving during the 84th MSFF.
"I hope everyone enjoyed the return of the Mountain State Forest Festival," Morris said. "While it may not have been perfect, I assure you I gave it everything I had. Many times during the past three years, I've joked — sometimes serious, but mostly joking — that I was cursed. After this week I have come to realize that I'm not cursed. I am blessed beyond measure, and more than I deserve."
Also speaking during the closing ceremony were MSFF Board of Directors President Ben Shaffer and Queen's Department Director Tracy Gooden.
At the close of the ceremony, Fluke and Morris placed a ceremonial stone commemorating this year's festival in the Jennings Randolph Federal Plaza courtyard.