By Brad Johnson Executive Editor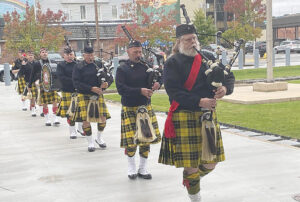 October 03, 2022
ELKINS — Despite rainy weather, hundreds of people turned out for the opening ceremonies of the 84th Mountain State Forest Festival Saturday morning at the Jennings Randolph Federal Plaza.
"It is fantastic to have the Forest Festival back, and to see this tremendous turnout for the opening ceremonies on this less than desirable weather day," Ben Shaffer, the president of the MSFF Board of Directors, said in welcoming the crowd Saturday morning. "We very much appreciate it."
Robbie Morris pointed out that he has served as MSFF Director General since 2020, because the festival was canceled in 2020 and 2021 due to COVID-19.
The opening ceremonies had "been a long time in the making," Morris told the crowd. "It has been 1,091 days from the closing ceremony of the 83rd festival to today. They were some of the most challenging days of many of our lives. But we have persevered and are ready to start another amazing festival in our beloved Mountain State."
Morris thanked the MSFF assistant directors and all the volunteers who have worked to make the 84th festival a reality.
"I would be remiss if I did not recognize a very special piece of our 'Mountain Mosaic' who is absent today," Morris said. "John Zirbs, affectionately known as 'Mr. Forest Festival,' passed away in 2021. John was always the first to arrive for opening ceremonies, and the last to leave the closing ceremony. He was the epitome of what the Forest Festival is all about. You may love the Forest Festival as much as John, but there's no way you love it more than John."
Morris asked the crowd to observe a moment of silence in honor of Zirbs.
"Let us never take for granted what a blessing the Mountain State Forest Festival is to our community, our citizens and our state,"Morris added.
The West Virginia Highlanders of Davis & Elkins College performed during the opening ceremonies, as did a children's choir from Beverly Elementary School, who sang "Country Roads" and "The West Virginia Hills."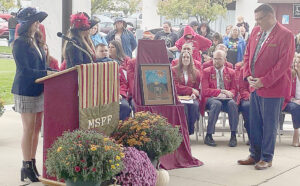 Due to the inclement weather, the MSFF Parade of Children was rescheduled from Sunday afternoon to Tuesday at 6 p.m. Registration will be at 5:15 p.m. The parade route will begin at the corner of 12th Street and South Davis Avenue.
The only opening weekend event to be canceled due to the weather was the MSFF Mountain State Street Machines Car Show on Saturday afternoon.
Several events were moved indoors on Saturday, including the MSFF Highland Dance Competition, the Strongest Team in the Forest competition, and the Kickoff Party, featuring Bon Journey.
Official MSFF Schedule Today
9 a.m. – 3 p.m. Randolph County Senior Bazaar, Randolph County Senior Center, 5th Street
5 p.m. – 9 p.m. Information Booth Open, Corner of Davis Avenue & 3rd Street
6:30 p.m. A Night of Dance, Citizens Bank Festival Stage Rotary amphitheatre Elkins Town Squares
7 p.m. Parade of Pets & Pet Show, Elkins High School Gymnasium
Tuesday
9 a.m. – 3 p.m. Randolph County Senior Bazaar, Randolph County Senior Center, 5th Street
5 p.m. – 9 p.m. Information Booth Open, Corner of Davis Avenue & 3rd Street
7 p.m. Talent Show, Citizens Bank Festival Stage Rotary amphitheatre Elkins Town Square (*Inclement Weather Location for all Downtown Stage Events, Elkins High School)