By Brad Johnson – Executive Editor
October 08, 2022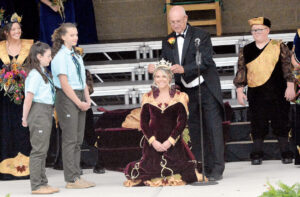 ELKINS — Queen Silvia LXXXIV of the 84th Mountain State Forest Festival was finally crowned on a sunny afternoon Friday, after two years of cancellations due to COVID-19.
Caroline Marie Fluke, of Buckhannon, received her crown from W.Va. Department of Agriculture Commissioner Kent Leonhardt at the Citizens Bank of WV Amphitheatre on the campus of Davis & Elkins College.
"Maid Silvia, it is now my pleasure to place upon your head this symbol of royalty,"Leonhardt said as he crowned Fluke, leading to cheers from the crowd of hundreds of people attending the coronation.
Royal trumpeteers Ava Marjory Barger, Aidan Matthew Lowther, Samuel "Aaron" Mabry Jr. and Thomas Albert Nixon provided fanfare for the queen and her court at the start of the ceremony.
Following the royal trumpeteers down Coronation Hill was the 2022 Woodly the Elf, Taelynn Grace Harlan, the fabled painter of the forest.
Representing the many colors of the forest in their gowns were 40 royal princesses from across the Mountain State.
Princesses included Brianna Nicole Barnette, Haylee Marie Bennett, Addison Willow Berdine, Emily Ann Bibey, Summer Hope Channell, Mackenzie Nicole Childers, Heidi Leanne Daniels, Adrianna Celine Dunbar, Johnna Isabel Figueroa, Madyson Sue Fincham, Margaret Grace Haas, Alexandra Suzanne Hall, Abigail Lynnlee Hannan, Alexis Breanne Hare, Mackenzie Malie Harshbarger, Mackenzie Faith Holland, Madison Frances Holland, Anastasia Jones-Burdick, Katelyn Leigh Kimbleton, Julie Nicole Koontz, Ariel Brooke Mallow, April Jane Marsh, Jocelyn Marie Martin, Brooklyn Dakota Maxwell, Lindsay Brooke Maxwell, Haley Brooke McCauley, Ella Esta-Mae Moats, Rachel Alice Morgan, Kaleigh Brooke Papez, Taylor Madison Phillips, Ani Ruth Reger, Anna Marie Ruf, Haleigh Marie Riggleman, Abigail Augusta Stuart, Isabella Rose "Ellie" Stump, Taylee Tiera Tallman, Zoe Williams, Bianca Marie Wingard, Ashley Marie Wolford and Saige Zoe Zervos.
Following the princesses' descent of Coronation Hill were flower girls Avery Grace Fox, Baelynn Lee Irons, Addison Grace Smyton and Kendall Brooke Ward.
Train Bearers Nicholas Joseph "NJ" Patella and Cooper Preston Warner served Queen Silvia LXXXIV by holding the flowing train of her majestic gown as she descended Coronation Hill.
Fluke was also accompanied by her two Maids of Honor, Hannah Lee Phillips and Sarah Diane Riggleman.
Maid of Honor Phillips is the daughter of Junior and Peggy Phillips of Coalton.
Maid of Honor Riggleman is the daughter of Larry and Brenda Riggleman of Beverly.
Crown Bearer Max Ryan Jones assisted Leonhardt in presenting Fluke with her crown. Scepter Bearer Eleanor Faye Davis carried the symbol of power down the hill to the coronation stage.
Entertaining guests of the Mountain State Forest Festival during the coronation were royal jesters Ariella Paige Brown, Kenadi Sloane Hall Carte, Emma Reese Markley and Emily Elizabeth Tesar.
The royal scouts for the coronation were Kayla Virginia Harris, Sarah Ashley Lipscomb, Daniel Webster Hardy III, and Kyle Liam Warner.
Also present for coronation as the "Court Noblemen" were State Senator Bill Hamilton, State Senator Robert Karnes, Delegate Ty Nestor, Delegate Cody Thompson, Elkins Mayor Jerry Marco, West Virginia Commissioner of Culture and History Randall Reid-Smith, and Davis & Elkins College President Chris Wood.
Fluke is the daughter of Eric and Jennifer Fluke of Buckhannon. She is the granddaughter of Carol and the late Thomas B. Dunn of Naples, Florida, and Juanita and the late John Fluke of Shawnee, Oklahoma. She has one brother, Bryson Fluke.
Fluke is a 2019 graduate of Buckhannon-Upshur High School. Currently, Caroline is enrolled in Laurel College of Technology. In 2021 Caroline received her associate degree in cosmetology and is now licensed in West Virginia. She is now continuing her studies in the field of aesthetics. After graduation she plans to be become licensed/certified and further her education to become a medical aesthetician.