The Mountain State Forest Festival Association announces that Bob Woolwine has been elected President of its Board of Directors.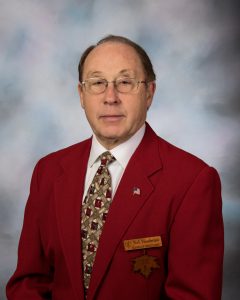 Born and raised in Elkins, he graduated from Elkins High School, attended Potomac State College and graduated from West Virginia University with a B.S. degree in Recreation Resource Management. He then moved to Falls Church, Va., where he was employed by the National Park Service. After 9 years, he returned to Elkins and worked for Monongahela Power Company for 20 years until his retirement.
He currently is a member of Elkins City Council where he serves as chairman of the finance committee, a member of the Board of Directors of the Elkins-Randolph County Airport Authority and is a member of Landmark Baptist Church.
He is married to Joanne Woolwine and has one daughter, Kelle, son-in-law Greg, and 3 grandchildren, Krystopher, Kelseigh and Kyndall Monk of Elkins.
Bob's association with the Mountain State Forest Festival started in 1984 when he served on the grounds committee for several years and later on the Grand Feature parade committee. He served as an Assistant Director for several years. He presided over the 73rd Mountain State Forest Festival as Director General and has been a member of the Festival's Board of Directors for 8 years.
Elected members of the Mountain State Forest Festival Board of Directors include; Bill Hartman, Mike Karlen, Hugh Hitchcock, Ray LaMora, Kathy Leombruno, Cliff Marstiller, Frank Santmyer, Ben Shaffer, Lydia Jones, John Wilson, Bob Wamsley, Scott Harris and Chad Shoemaker. Community Board Members include the Mayor of Elkins- Van Broughton, Representative of the Forestry Industry- Shelly Crites, President of Davis and Elkins College- Chris Wood, President of Randolph County Commission- Mark Scott, Warden of the Huttonsville Correctional Center- Michael Martin, and President of the Maple Leaf Society- Susie Kump.
"It is indeed an honor to be a part of leading this organization as we begin working on the 83rd Mountain State Forest Festival," commented Bob. "The Board consists of professional people who have a wide variety of experience and talent and who are united in making the best decisions that will enable the Festival to continue to be the best in the State," he added.
The State's largest and oldest festival is scheduled to begin on September 28 and end on October 6, 2019.