The Mountain State Forest Festival Association announces Dr. Scott Harris President has been elected President of its Board of Directors.
Dr. Harris owns and operates Harris Family Chiropractic in Elkins. He obtained his Doctor of Chiropractic from New York Chiropractic College. He holds a B.S. in Biology from West Virginia Wesleyan College and is a graduate of Elkins High School.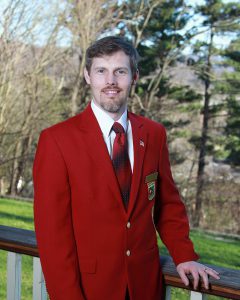 A Member of the Elkins Rotary Club, he sits on the advisory board of Randolph County Emergency Squad, and is a member of the Board of Directors for the West Virginia Chiropractic Association. He serves as a den leader of Cub Scout Pack 88 and is an Eagle Scout.
He is married to Christina Harris and has two children Andrew and Kayla. He is a member of the First United Methodist Church.
Dr. Harris has a rich history with the Mountain State Forest Festival that dates back over seven decades. He was a train bearer in the 51st Forest Festival and served as a page while attending Elkins High School. He served on the Grand Feature parade committee for several years before serving four years as an Assistant Director. He presided over the 75th Mountain State Forest Festival as Director General and has been a member of the festival's Board of Directors for four years.
His mother, Ann Harris, took photos and created the Queen's memory scrapbook for 20 years and his father, Phil Harris, has volunteered with festival grounds for many years. Dr. Harris' wife, Christina, has volunteered on several committees over the years, including the scrapbook and minor court committees. Son, Andrew, served as the crown bearer in the 79th Royal Court. Dr. Harris' brother, Curtis Harris, also served as a Royal Scout and then later, as a volunteer on the grand feature parade committee for 10 years. His grandmother, Justine Harris, worked with the Queen's Ball committee for numerous years. His grandfather, Richard Knotts, served on the Grand Feature Parade committee. His aunt, Elizabeth Merriam, served as a princess for the royal court in 1974 and his great aunt, Suzie Shaw, served as a princess in the 3rd Mountain State Forest Festival. Grandmother, Martha Martin Knotts served as a princess in the 1940's.
Elected members of the Mountain State Forest Festival Board of Directors include Kenna Barger, Bill Hartman, Mike Karlen, Cricket Leary, Molly Busch, Hugh Hitchcock, Ray LaMora, Kathy Leombruno, Cliff Marstiller, Frank Santmyer, Ben Shaffer, Steve Shepler, Bob Wamsley, Bob Woolwine, and John Wilson. Community Board Members include Van Broughton, Shelly Crites, Susie Kump, Marvin Plumley, Buck Smith and Mike Taylor.
"I am deeply humbled to be a part of leading and guiding this organization as mark the 80th anniversary of the Mountain State Forest Festival," commented Dr. Harris. "All of the board has an unwavering commitment to assure this festival has a secure future and has a dedication to what the Forest Festival stands for and is all about. The entire board is excited to work with this year's Director General and Assistant Directors to put on a banner celebration."
The state's largest and oldest festival is scheduled for October 1-8, 2016.
Additional information about the Mountain State Forest Festival is available online at www.forestfestival.com.