By Edgar Kelley – Staff Writer October 04, 2022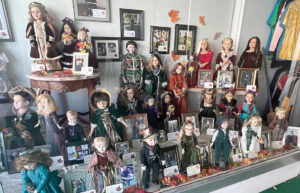 ELKINS — Downtown window displays featuring unique items from past Mountain State Forest Festivals allow festival goers a chance to take a trip down memory lane.
Third Street and Davis Avenue store fronts are currently displaying Forest Festival memorabilia, including former queen gowns, costumes, photos, dolls and much more.
"We currently have window displays in local businesses that range in a variety of different years and styles," MSFF Assistant Director Karrah Washington told The Inter-Mountain. "We like to put a lot of vintage style dresses and costumes in the windows so that we get some of the history of the Forest Festival out there to the public."
Washington said a mix of memorabilia from recent years is being shown in the windows, including a display in memory of a popular local figure who is no longer with us.
"We have a window in memory of John Zirbs that is located on Third Street," she said. "It's at the former Fancy Paws across from the Sewing Center. It's a really nice tribute to him."
Washington said the displays start at Citizens Bank of West Virginia and head up Third Street to the Elkins Sewing Center. From there, the displays that are located on Davis Street go down to Jojo's Floral in one direction and to Pioneer Insurance in the other.
The only display located away from the others downtown is at the former Dodds Flower Shop on Harrison Avenue.
"We have a really, really nice display at the old Dodds location," Washington said. "It's a very old queen's costume that a lot of people will find very interesting. We also have a vintage costume located at Tip Top on Third Street, and across the street from there at T.D.'s Classic Tees, there is a big display of Forest Festival dolls and gowns."
Washington said the displays would not be possible if not for the hard work of many volunteers.
"We have a committee of volunteers that helps us put all these displays up," Washington said. "It absolutely wouldn't be possible to do without all the hard work they put in. We had a really great group to work with this year."
Washington said the memorabilia the Forest Festival owns is stored away in safe locations until it is ready to come out each fall for the displays.
"A lot of the items are stored in the attic of the Mountain State Forest Festival office, and the costumes are put in a climate-controlled storage unit at U-Haul," she said. "Some of the items we get are not from the Forest Festival, they are from people nice enough to let us use them, so they go back to their owners at the end of the festival."
Despite the cancellation of the past two Forest Festivals due to COVID-19, officials decided last year to carry on the tradition of decorating the windows and putting up the displays for people to enjoy.