By Joey Kittle – Staff Writer
October 08, 2022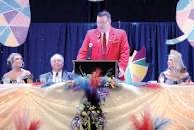 ELKINS — A celebration of the return of the Mountain State Forest Festival after a two-year hiatus due to the COVID-19 pandemic, and the comedy of the daughter of Don Knotts highlighted the 84th MSFF's Distinguished Guest Dinner Thursday evening at the Phil Gainer Community Center.
"It's been a thousand and one days since our last Distinguished Guest Dinner," Robbie Morris, Director General of the 84th MSFF, told the assembled audience. "It has been a challenge but we have preserved and we have gathered once again to celebrate our beloved Forest Festival."
A moment of silence was then observed for John Zirbs, who passed away in 2021.
"John was affectionately known as 'Mr. Forest Festival' and always attended the Distinguished Guest Dinner," Morris said. "He was a metaphor of what the Forest Festival is all about. You may love the Forest Festival as much as John, but not more."
Morris added his time as director general has been eventful, to say the least.
"It's a tremendous honor to serve as the Mountain State Forest Festival Director for most," he said. "I've held the title for three years, canceled two and held one.
"Some have asked me this week is that really good or bad, and my answer has been 'yes."'
Morris then praised Kaitlin Marie Smith, Queen Silvia for the 83rd MSFF, for her representation of the festival over the past three years.
"I also want to congratulate you for being the second-longest serving queen," Morris joked. "The longest serving queen before you came during World War II and the rest are tied for third."
Smith was later presented with a replica doll, wearing a dress modeled after Queen Silvia LXXXIII, by 83rd MSFF Director General Robin Miller.
Morris concluded his opening remarks by telling the crowd to take in all of scenes of the MSFF.
After the dinner service, Rev. Raymond Godwin, who served as Master of Ceremonies, introduced guest speaker Karen Knotts.
"I'm honored to be the guest speaker and thank you for having me," said the daughter of the West Virginia native comedy legend. "I can't tell you how proud my father was to be from the great state of West Virginia."
The late Don Knotts was a native of Morgantown and a graduate of West Virginia University. He had many famous roles but was best known as Andy Griffith's deputy sidekick Barney Fife on "The Andy Griffith Show."
"People always assume my father was like Barney Fife," Knotts said. "But he was quite opposite of that. He was quiet, thoughtful, intelligent and well-read, and was just a wonderful father."
Knotts shared several funny stories about her father. She also recalled the first time she was on the set of "The Andy Griffith Show."
"I couldn't wait for that to happen," she said. "When I was there, I heard a familiar voice and it was Aunt Bee and she was smoking a cigarette. I said 'Aunt Bee, you are smoking' and she replied, 'That's right kid, I'm still a hot chick."'
Knotts also shared a story about Ron Howard, who as a young boy played Andy's fictional son, Opie. She said Howard was nice to her and took her around the set.
"He showed me the dartboard where my father and Andy played darts," she said. "They were always pulling pranks on one another and it was just a wonderful experience."
Other speakers during the dinner included Elkins Mayor Jerry Marco, Randolph County Commissioner David Kesling, Davis & Elkins College President Chris A. Wood, MSFF Board President Ben Shaffer and Smith. Then Buckhannon resident Caroline Marie Fluke, Maid Silvia for the 84th MSFF, was introduced.
Fluke was crowned Queen Silvia during Friday afternoon's coronation.
"I'm honored to be here and it's been a long time coming," Fluke said. "I grew up coming to the festival with my family and I appreciate all the traditions of it.
"I've made so many memories and had so much fun, and know the best is yet to come."
The event ended with the introduction of the 40 princesses of the 84th MSFF. They were presented gifts by Fluke and her Maids of Honor, Hannah Lee Phillips and Sarah Diane Riggleman.