October 07, 2022
Edgar Kelley – Staff Writer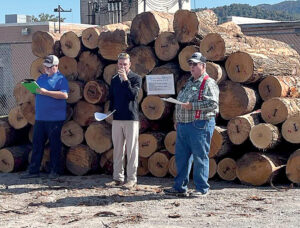 ELKINS — The Mountain Loggers Group hosted its annual Log-A-Load for Kids Auction to benefit WVU Children's Hospital during the 84th Mountain State Forest Festival Thursday at Newlons International Sales on the Beverly Five-Lane.
The benefit event started back in 1996 and since then has raised close to $2 million for WVU Children's Hospital, which opened the doors on a brand-new 150-bed, $215 million facility last week.
A group of professionals from the hospital, including Dr. Larry Rhodes, Dee 'O Palko and Samantha Godwin, attended the event. Rhodes is a pediatric cardiologist and professor of pediatrics at WVU Children's Hospital, while O' Palko is the director of annual giving. Godwin is associate director of development at the hospital.
"I think this is probably my 11th or 12th log auction and when you look at the sky and the temperature today, I think God is smiling on us," Rhodes said to those assembled Thursday. "Since I've been coming I don't think it's ever rained on this auction. I think that speaks to the work that you are doing for our children. We very much appreciate all you do and I want you to know how much it means to children when they know that someone that they don't even know cares about them — it's just so very special."
O'Palko told those in attendance that the new hospital has already treated 249 kids in the emergency department, had 881 clinic appointments, seen 41 babies born, performed 107 surgeries, and discharged 170 patients, all in just a seven-day time period.
"We are really at high capacity, too, and that just really means that people are coming there and we couldn't do that without the support of generous donors like you guys," she said. "The patients are from far and wide and we appreciate the continued support."
Mountain State Forest Festival Maid Silvia LXXXIV Caroline Fluke and her maids of honor Hannah Lee Phillips and Sarah Diane Riggleman made a stop at the auction Thursday, along with other officials with the MSFF. Eric Carlson, executive director of the West Virginia Forestry Association, was also on hand.
Close to 100 people, both bidders and contributors, attended the auction that was conducted by auctioneer Andrew Yoder from Kaufman Realty and Auctions. Veneer logs, poplar peeler logs and saw logs were included in the more than 30 lots up for bid.
There was a plaque presentation during the event for the top four contributors at the 2021 auction. That group included: Heritage Hardwoods (largest), Columbia Forest Products (second largest), JC Lumber Company (third largest), and Allegheny Wood Products (fourth largest).
Paul Dohner was recognized with the Mountain Loggers Group President's Service Award. Dohner, who is the owner of Heritage Hardwood in Lititz, Pennsylvania, has been a key contributor to Log-a-Load for many years. Last year when the organization came up short of its $150,000 goal, Dohner made up the difference of what was left so that the Mountain Loggers could reach their target amount raised.
Mountain Loggers Group President Danny Sines could not attend Thursday's event but sent a written statement thanking all of those who contributed.
"It was a great year for the Mountain Loggers Group and there were a number of people that made it happen," Sines said in his statement. "We appreciate everyone, no matter how big or small the donations were."