The Mountain State Forest Festival Board of Directors announces the appointment of Scott Goddard as Director General of the 80th annual fall celebration scheduled October 1 – October 9, 2016.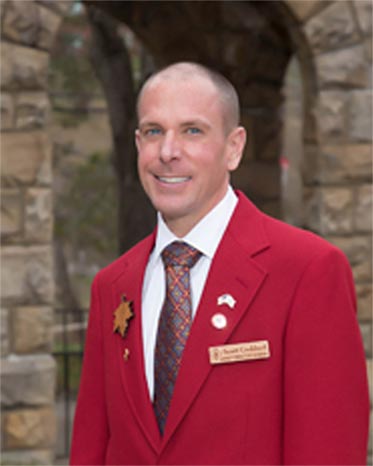 The Forest Festival is West Virginia's longest running festival and a premier mountain event annually attracting tens of thousands of visitors for a regal celebration. Director General Goddard has simply and appropriately themed the 80th Mountain State Forest Festival "Celebrate!"
"Each fall, we all celebrate the rich history, friendships, and memories made through the Mountain State Forest Festival," commented Goddard. "I know I have celebrated so many great festival moments since the early 1990's when I first served as a volunteer. In later years, I was honored to join the team of Assistant Directors and the celebrations and memories – although many times laborious and exhausting – just kept getting better. I'm truly humbled to be now serving as the Director General of this spectacular festival."
Goddard currently serves as the Vice President of Student Affairs at Davis & Elkins College. In 1996, he earned a Bachelor of Arts in Marketing and Management at Davis & Elkins College and in 2002, received a Master of Arts in Education Leadership from West Virginia University.
Goddard is the parent of daughter, Ellyse who served as Crown Bearer in the 2013 Forest Festival.  He also served on the festival's Board of Directors as representation for D&E College prior to his appointment as Director General. 
Throughout the years, Goddard has been actively involved with the National Association of Campus Activities, NASPA – Student Affairs Administrators in Higher Education, and West Virginia Association of Student Personnel Administrators. In 1998, he received the W.V.A.S.P.A. New Professional Award and in 2004 he received the designation of Davis & Elkins College's Outstanding Young Alumnus Award.
Something that Goddard takes seriously is the coordination of live music events on the Davis & Elkins College campus.  He has worked with some of the top names in music including: Blake Shelton, Brad Paisley, Charlie Daniels Band, Dierks Bentley, Echosmith, Flogging Molly, Francesca Battistelli, Kansas, Kenny Chesney, Lady Antebellum, the MTV Campus Invasion Tour, O.A.R., Phillip Phillips, Reel Big Fish, Sara Evans, Scotty McCreery, Switchfoot, The Lumineers, Thompson Square, Three Dog Night, Vanilla Ice and Wale.
With a hallmark 80th celebration upon us, Goddard has plans to incorporate the long-standing traditions of the Mountain State Forest Festival with new and exciting events. "My hope for every festival event is to touch the heart and to transport those in attendance to a "different place" for that short period of time," said Goddard. "To clarify, the challenges facing the world, the nation, our community, and personally in our day to day lives are overwhelming.  If we can go to a better place, a happier place, together in our mind's eye the Mountain State Forest Festival will be a success.  We do have a few confirmations for the 80th Mountain State Forest Festival that we can announce which include:
Saturday, October 1, 2016
The Magic of Autumn Featuring Elkins Native, Illusionist Joshua Jordan
7:30 p.m.
Myles Center for the Arts/Harper-McNeeley Auditorium of Davis & Elkins College
Sunday, October 2, 2016
Blue Jupiter
A Cappella Quartet
7:00 p.m.
Downtown Stage, Elkins Town Square
Throughout the Festival, schedule T.B.A.
The Indianapolis Metropolitan Police Motorcycle Drill Team
Assisting the Director General in the implementation of the 80th festival will be Deputy Director Chad Shoemaker; Director of the Queen's Court Peggy Phillips, Jennifer Currence, Jon Morgan, Felicia Hendon, Christina Mullenax, Robin Miller, Amanda Carter, Todd Riggleman, Robbie Morris, Michelle Pratt, and Jeff Skidmore.
"To each and every Mountain State Forest Festival volunteer and sponsor over the years, thank you from the bottom of my heart," stated Goddard.   "You are the life blood of the region, the City of Elkins, and the Mountain State Forest Festival.  Being new in my role, I'm eager to meet you personally to thank you for all the good things you have made possible."