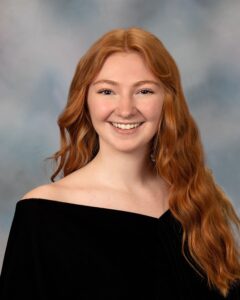 Abigail Augusta Stuart Appointed as a Princess for the 84th Mountain State Forest Festival
Mountain State Forest Festival Director Robbie Morris has announced Abigail Augusta Stuart will serve as a Princess to the Royal Court of Maid Silvia LXXXIV, Caroline Marie Fluke.
Princess Abigail Augusta Stuart was appointed by West Virginia State Senator Hannah Geffert and is the daughter of Chris and Sharron Stuart of Charles Town, WV.  She is the granddaughter of George and Jane Collett of Beverly, WV and Rae and Bill Stuart of New Martinsville, WV.  She has one brother, Deighton and one sister, Sophie.
Princess Abigail is a 2021 graduate of Jefferson High School where she was a four-year member of an award-winning marching band, jazz ensemble and symphonic band.  She also excelled in her academics where she maintained her honor roll status throughout her entire high school career.  In the fall, she will be a sophomore at West Liberty University where she has earned the dean's list for all semesters she has attended.