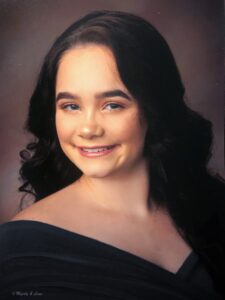 Adrianna Celine Dunbar Appointed as a Princess for the 84th Mountain State Forest Festival
Mountain State Forest Festival Director Robbie Morris has announced Adrianna Celine Dunbar will serve as a Princess to the Royal Court of Maid Silvia LXXXIV, Caroline Marie Fluke.
Princess Adrianna Celine Dunbar was appointed by the Director of Department of Natural Resources, Brett McMillion and is the daughter of Shelva Sine of Martinsburg, WV.  She is the granddaughter of Virginia Sine of Martinsburg, WV and Milly Shepherd of Inwood, WV.
Princess Adrianna is a 2019 graduate of Saint Maria Goretti High School where she was an honor roll student and a member of the Art National Honor Society.  She was also a member of the Service Hours Club and Hiking Club.  In the fall, she will be a senior at West Virginia University where she is co-captain of the Western Equestrian team, a member of the WVU Collegiate 4-H club and is a teaching assistant for classes in the equine studies minor.