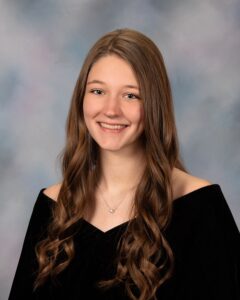 Alexis Breanne Hare Appointed as a Princess for the 84th Mountain State Forest Festival
Mountain State Forest Festival Director Robbie Morris has announced that Alexis Breanne Hare will serve as a Princess to the Royal Court of Maid Silvia LXXXIV, Caroline Marie Fluke.
Princess Alexis Breanne Hare, was appointed by the Commissioner of Corrections, Betsy Jividen. She is the daughter of Skip and Roxane Hare of Elkins. She is the granddaughter of Burton and Sue Hare of Elkins and Junior and Phyllis Cross of Belington. Princess Alexis has one brother, Ryan Hare. Alexis is a 2020 graduate of Elkins High School where she was a member of the National Honor Society and lettered in basketball for four years. In the fall she will be a junior at Alderson Broaddus University where she is majoring in Exercise Science and has been on the deans list. Alexis plans on attending Physician Assistant School after graduation.