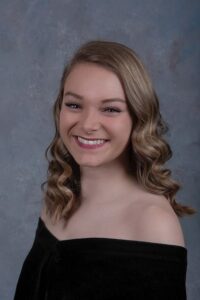 Anna Marie Ruf Appointed as a Princess for the 84th Mountain State Forest Festival
Mountain State Forest Festival Director Robbie Morris has announced that Anna Marie Ruf will serve as a Princess to the Royal Court of Maid Silvia LXXXIV, Caroline Marie Fluke.
Princess Anna Marie Ruf was appointed by West Virginia House of Delegates Majority Leader Amy Summers. She is the daughter of Eric and Jana Ruf of Belington. She is the granddaughter of the late Henry "Bud" and Phyllis Ruf of Parkersburg, WV and the late Robert and Joan Donaldson of Belington, WV. Princess Anna is a 2019 graduate of Philip Barbour High School where she graduated Summa Cum Laude, Class President for 4 years, Key Club President, National Honor Society Secretary, Student Council Representative, a twirler and saxophonist for the Philip Barbour Band, 2019 Prom Queen, 2018 Homecoming Queen, 2019 Principal's Award, 2019 American Legion Award, 2016 Colt Character Award, 2018 Rhododendron Girls' State, and a 2015 Golden Horseshoe Winner. In the fall, Anna will be a senior at Davis and Elkins College where she is majoring in Secondary Math Education and was the 2019 recipient of a full 4-year tuition Leadership and Scholarship Award. She is a member of the Honor's Program, Dean's List, Concert Choir, Kappa Delta Pi, Fellowship and Faith, serves as Treasurer of the Student Education Association, and works as a Student Ambassador. Anna is also a twirling instructor for the Philip Barbour High School Band.