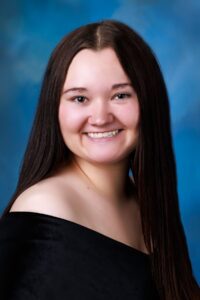 Brianna Nicole Barnette Appointed as a Princess for the 84th Mountain State Forest Festival
Mountain State Forest Festival Director Robbie Morris has announced Brianna Nicole Barnette will serve as a Princess to the Royal Court of Maid Silvia LXXXIV, Caroline Marie Fluke.
Princess Brianna Nicole Barnette was appointed by Mountain State Forest Festival President Ben Shaffer.  She is the daughter of Jon and Jennie Barnette of Buckhannon, WV.  She is the granddaughter of Darwin Casto and Nancy Casto of Buckhannon, WV and Ronnie and RosaLea Barnette of Weston, WV and great-granddaughter of Kathleen Casto of Buckhannon, WV.
Princess Brianna is a 2020 graduate of Buckhannon-Upshur High School where she was a member of the National Honor Society and Youth Government.  She was a varsity cheerleader and lettered in cheerleading and participated in Skills USA National Competition.  She was a recipient of St. Joseph Auxiliary Scholarship and Davis & Elkins Highlands Scholarship.  In the fall, she will be a junior at Davis & Elkins College pursuing a BSN in nursing with a goal to work in labor and delivery after graduation.