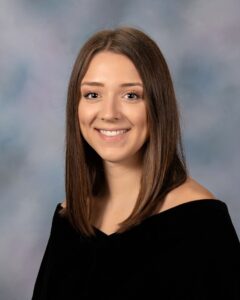 Brooklyn Dakota Maxwell Appointed as a Princess for the 84th Mountain State Forest Festival
Mountain State Forest Festival Director Robbie Morris has announced Brooklyn Dakota Maxwell will serve as a Princess to the Royal Court of Maid Silvia LXXXIV, Caroline Marie Fluke.
Princess Brooklyn Dakota Maxwell was appointed by Mountain State Forest Festival President Ben Shaffer.  She is the daughter of Joe and Pam Maxwell of Buckhannon, WV.  She is the granddaughter of Fred and Linda Maxwell of Parsons, WV and Brian and Theresa Samples of Buckhannon, WV.  She a two sisters, Ashton and Kenna and two stepbrothers, Connor and Rowen.
Princess Brooklyn is a 2020 graduate of Buckhannon-Upshur High School where she was an honor roll student, a member of Fellowship of Christian Athletes, girls basketball team (4-year letterman), and girls soccer team (3-year letterman).  She was 2nd team all-region in soccer, 2nd team all-conference and honorable mention all-state in basketball, team captain and back-to-back state runner ups Big 10 champs basketball.  In the fall, she will be a junior at Davis & Elkins College where she is a member of the National Society of Leadership and Success, Fellowship of Christian Athletes, Kapp Delta Pi, and was on the Presidents List last spring.  She is also a member of the Student Education Association.