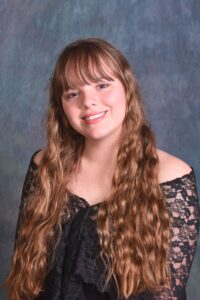 Ella Esta-Mae Moats Appointed as a Princess for the 84th Mountain State Forest Festival
Mountain State Forest Festival Director Robbie Morris has announced Ella Esta-Mae Moats will serve as a Princess to the Royal Court of Maid Silvia LXXXIV, Caroline Marie Fluke.
Princess Ella Esta-Mae Moats was appointed by Mountain State Forest Festival President Ben Shaffer. She is the daughter of Christopher and Leslie Moats of Morgantown, WV.  She is the granddaughter of Bill and Linda McCollam of Elkins, WV and Ron Moats and Shirley Hess of Morgantown, WV.  She has one brother, Cyrus Moats.
Princess Ella is a 2022 graduate of Morgantown High School where she was a member of National Honors Society, Green Initiative Club and was a majorette in the Morgantown High School Band.  In the fall, she will be a freshman at West Virginia University where she is enrolled at the Honors College and majoring in Biology.