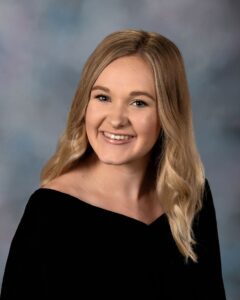 Heidi Leanne Daniels Appointed as a Princess for the 84th Mountain State Forest Festival
Mountain State Forest Festival Director Robbie Morris has announced that Heidi Leanne Daniels will serve as a Princess to the Royal Court of Maid Silvia LXXXIV, Caroline Marie Fluke.
Princess, Heidi Leanne Daniels, was appointed by Mountain State Forest Festival Board President, Ben Shaffer. She is the daughter of Stephen and Lori Daniels of Beverly. She is the granddaughter of Wilson and Rebecca Kenney of Elkins and the late John and Carol Daniels of Beverly. Princess Heidi has one sister, Hannah Daniels Urban, who was a Royal Girl Scout in the 2010 Mountain State Forest Festival. Heidi is a 2020 graduate of Elkins High School where she was an honor roll student, member of the National Honor Society, National Technical Honor Society, Skills USA, and 4-year member of the EHS Women's Tennis Team. She was a 10-year member of the Ski-Hi 4H Club receiving outstanding recognition and the Irene Corley 4H scholarship. Heidi is a member of the First Baptist Church of Elkins and participated in the Handbell Choir. In the fall Heidi will be a junior at Davis & Elkins College where she is in the BSN program and majoring in nursing. She is a 3-year member of the collegiate Women's Tennis Team and a member of the Phoenix Court (PHONCX) nursing organization under Alpha Sigma Phi; member of the outdoor recreation club and D&E Student Nursing Association (DESNA). She is the recipient of the Highland Scholarship and the Davis & Elkins College Leadership Scholarship. She is employed by Salon Bumbi and Davis Medical Center.