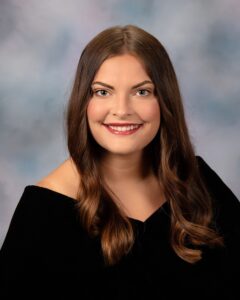 Jocelyn Marie Martin Appointed as a Princess for the 84th Mountain State Forest Festival
Mountain State Forest Festival Director Robbie Morris has announced that Jocelyn Marie Martin will serve as a Princess to the Royal Court of Maid Silvia LXXXIV, Caroline Marie Fluke.
Princess Jocelyn Marie Martin was appointed by U.S. Senator, Joe Manchin III. She is the daughter of John and Danelle Martin of Kerens. She is the granddaughter of Charles and Karen Harper of Napier, WV and Bob and Sheila Martin of Beckley, WV. Princess Jocelyn has one sister, Hannah Martin, and one brother, Camden Martin.  Jocelyn is a 2020 graduate of Elkins High School where she was on the National Honor Society, Rhododendron Girls State, and was the president of Future Business Leaders of America. She was also a member of the track and field team. In the fall, she will be a senior at the University of Charleston where she is majoring in Radiologic Technology and maintaining a 4.0 grade point average and Presidential list.