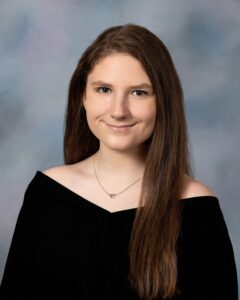 Lindsay Brooke Maxwell Appointed as a Princess for the 84th Mountain State Forest Festival
Mountain State Forest Festival Director Robbie Morris has announced that Lindsay Brooke Maxwell will serve as a Princess to the Royal Court of Maid Silvia LXXXIV, Caroline Marie Fluke.
Princess, Lindsay Brooke Maxwell, was appointed by the Monongahela National Forest Supervisor, Shawn Cochran. She is the daughter of Kenneth and Michelle Maxwell of Elkins. She is the granddaughter of Robert Dennis and Buelah Jean Ramsey of Beverly and Kenneth and Rose Maxwell of Cadiz, Ohio. Princess Lindsay has one sister, Samantha. Lindsay is a 2021 graduate of Elkins High School, where she graduated in the top 10% and was a member of the National Technical Honor Society and Spanish Honor Society. She was also the flute section leader and band commander of the EHS Marching Band. Lindsay participated in the Mumon Shotokan Karate and completed in Law and Public Safety at the Randolph County Vocational Technical Center. In the fall she will be a sophomore at West Virginia University where she is on the President's List, a member of the Phi Eta Sigma National Honor Society, WVU criminology club, and WVU concert band.