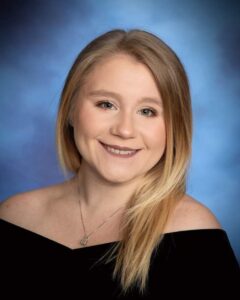 Mackenzie Malie Harshbarger Appointed as a Princess for the 84th Mountain State Forest Festival
Mountain State Forest Festival Director Robbie Morris has announced Mackenzie Malie Harshbarger will serve as a Princess to the Royal Court of Maid Silvia LXXXIV, Caroline Marie Fluke.
Princess Mackenzie Malie Harshbarger is was appointed by WV Senator Mike Maroney and is the daughter Jason and Michelle Harshbarger of Pullman, WV.  She is the granddaughter of Sheila Cunningham of Pullman, WV and Dave and Carol Sprigg of Harrisville, WV.
Princess Mackenzie is a 2021 graduate of Ritchie County High School where she participated in cheerleading and was the cheerleading MVP.  She participated in church youth group, Hugh O'Brian Youth Leadership, World Leadership Congress, Future Business Leaders, RCHS Rebel Leader and boxing.  In the fall, she will be a sophomore at Marietta College.