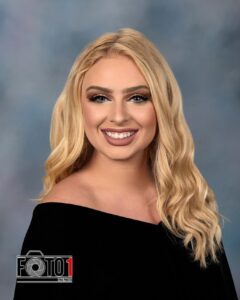 Mackenzie Faith Holland Appointed as a Princess for the 84th Mountain State Forest Festival
Mountain State Forest Festival Director Robbie Morris has announced that Mackenzie Faith Holland will serve as a Princess to the Royal Court of Maid Silvia LXXXIV, Caroline Marie Fluke.
Princess Mackenzie Faith Holland was appointed by Mountain State Forest Festival Director General Robbie Morris. She is the daughter of Richard and Angela Holland of Elkins and Marisa and Kent Downey of Elkins. She is the granddaughter of the late Lunsford and Xenada Holland of Elkins and Connie Pingley and the late Ralph Pingley of Beverly. Mackenzie has two brothers, Matthew and Brock Holland, and three sisters, Bethany and Madison Holland and Emma Downey. Princess Mackenzie is a 2020 graduate of Elkins High School, where she graduated top 10% of her class and participated in class council and student council. She was a member of the National Honors Society and the National Technical Honors Society. She was also a varsity Cheerleader and a member of the Homecoming Court. Mackenzie is a junior at West Liberty University where she is on the Dean's List and works full time. She has been accepted into the competitive Dental Hygiene program from which she will graduate in 2024. She was a jester in 2014 for the 75th Mountain State Forest Festival.