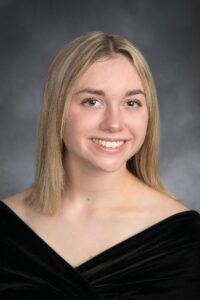 Madyson Sue Fincham Appointed as a Princess for the 84th Mountain State Forest Festival
Mountain State Forest Festival Director Robbie Morris has announced Madyson Sue Fincham will serve as a Princess to the Royal Court of Maid Silvia LXXXIV, Caroline Marie Fluke.
Princess Madyson Sue Fincham was appointed by Mountain State Forest Festival President, Ben Shaffer.  She is the daughter of Scott and Amy Fincham of Charles Town, WV.  She is the granddaughter of Mitch Fincham (formerly of Elkins) and the late Cindy Fincham of Summit Point, WV and Jennifer Kable and the late Emory Kable of Ranson, WV.  She has one sister, Julie Fincham.
Princess Madyson is a 2022 graduate of Washington High School where she graduated with honors and lettered in volleyball.  She was named court captain and received the "Most Valuable Player for Varsity" her senior year.  In addition, she participated in FFA and Key Club at Washington and was a setter for a Virginia volleyball travel team.  She was also voted "Most Kind" by her senior class.  In the fall, she will be a freshman at Shepherd University where she plans to major in environmental studies