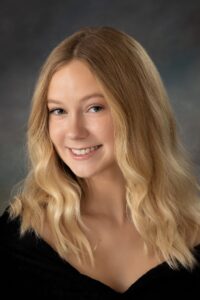 Rachel Alice Morgan Appointed as a Princess for the 84th Mountain State Forest Festival
Mountain State Forest Festival Director Robbie Morris has announced Rachel Alice Morgan will serve as a Princess to the Royal Court of Maid Silvia LXXXIV, Caroline Marie Fluke.
Princess Rachel Alice Morgan was appointed by Mountain State Forest Festival Director General Robbie Morris and is the daughter of Timothy and Shawn Morgan of Bridgeport, WV.  She is the granddaughter of Donna and Jim Comer of Apple Grove, WV and Sue Morgan and the late Rev. Sterling Morgan of Lewisburg, WV.  She has one brother, Luke Morgan.
Princess Rachel is a 2021 graduate of Bridgeport High School where she was a four-year member of the tennis team, was on the honor roll, participated in Student Council and attended WV Rhododendron Girls State.  In the fall, she will be a sophomore at West Virginia University where she studies marketing.  She will serve as a peer mentor in the John Chambers College of Business and Economics and is on the dean's list.  In the fall of 2021, Rachel served as the social chair of the WVU Collegiate 4-H club.  Currently she serves as the club's social media chair.  She is also a 4-H Allstar.