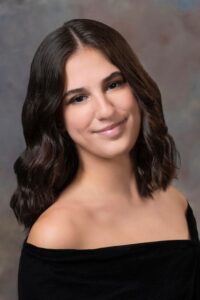 Saige Zoe Zervos Appointed as a Princess for the 84th Mountain State Forest Festival
Mountain State Forest Festival Director Robbie Morris has announced Saige Zoe Zervos will serve as a Princess to the Royal Court of Maid Silvia LXXXIV, Caroline Marie Fluke.
Princess Saige Zoe Zervos was appointed Commissioner of the West Virginia Division of Culture and History Randall Reid-Smith and is the daughter of Nick and Amy Zervos of Morgantown, WV.  She is the granddaughter of Fred and Sharon Riggleman of Beverly, WV, Harry and Sherri Elliott of Beverly, WV and John and Sofia Zervos of Glen Dale, WV.  She has two brothers Logothetis Zervos and Theophilos Zervos and one sister Ariah Zervos.
Princess Saige is a 2020 graduate of Linsly High School where she was an AP Scholar, member of National Honor Society, Spanish National Honor Society, Spanish Club President and a member of Student Council.  Saige received the Rotary Youth Leadership Award and was Perfect and Community Service Committee Head.  She was a student ambassador for admissions and dormitory residential assistant.  She participated in Linsly cadet track and field, competitive dance, cadet cheerleader, environmental club, KEY club and SADD club.  In the fall, she will be a junior at the University of Miami in Miami, FL where she is a member of Rho Rho Rho Honor Society, University of Miami Dance Team Sunsations and Miami Motion Club Dance team.