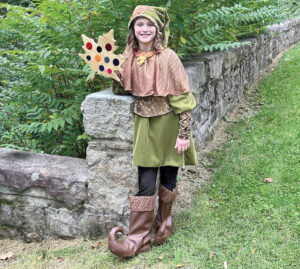 Harlan to serve as Woodly the Elf
ELKINS — Taelynn Grace Harlan has waited a long time to fulfill her role as Woodly the Elf, the spritely painter of the forest scene for the 84th Mountain State Forest Festival.
The costume for Woodly the Elf features an A-line modest trapeze dress in the color of Forest Moss velvet, with a high-low hemline just above the knee, according to Miss Connie Linger, the MSFF costume designer.
"Her simple neckline is adorned by a garland of seven leaves of maple and one oak, with an embroidered acorn at the center front," Linger said. "The leaves serve to anchor her capelet collar made from a layer of sheer mesh glittering with streams of metallic copper. It falls around her shoulders and splits behind her into two long trailing pointed back drapes.
"Her dress features classic puffed sleeves in the Forest Moss velvet, finished at the wrist with long fitted and embroidered taffeta cuffs in dark fern green. Taelynn's dress is cinched with a wide belt of the matching embroidered taffeta.
"Chocolate brown leggings barely peek out from under her dress before you are amazed by her stand out leatherette elf boots," she said. "The boots are knee high and make quite a statement as they feature a larger than usual curl at the toe and a lightly ruched glittery copper mesh cuff at the top of the boot.
"Woodly's classic pointed elf hat is created from the Forest Moss velvet and is accented by embroidered leaves and a trail of metallic gold braid which twirls around the hat to end at the point with two embroidered acorns. Embroidered leaves peek out from under her turned-up cuff in a matching cotton batik print.
"Taelynn will be the envy of all who admire the magic represented by Woodly the Elf,"Linger said. "Her personality, charm and enthusiasm prepare us for all the excitement of the 84th Mountain State Forest Festival 'A Mountain Mosaic."'
"Many thanks to Lola Collier for her amazing skill in bringing my Woodly sketch to life,"Linger added.
Harlan is a fifth-grader at Midland Elementary School. Her parents are Brandon and Trenna Robinson and George and Brittany Harlan.