October 06, 2022
Edgar Kelly – Staff Writer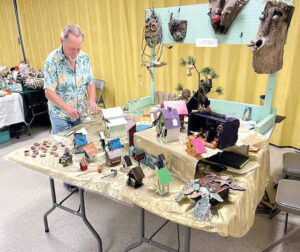 ELKINS — After being canceled along with the Mountain State Forest Festival the past two years, the Randolph County Senior Center's annual Bazaar has returned this year and is off to a running start during the 84th MSFF.
"We have a lot of people visiting the Senior Center for this event," RCSC activities director Donna Canfield said. "We've only been open a few days and we've been pretty busy with guests coming in every day. I expected to pick up even more the next couple of days, especially on Friday when everyone is downtown."
The bazaar kicked off Monday at the Senior Center building on Fifth Street and Railroad Avenue. It will run through Friday and is open each day from 9 a.m. until 3 p.m.
All of the items being sold at the bazaar are made by seniors who are residents of Randolph County. Many unique homemade items are available at the event.
"There is homemade food, different types of cookies, candies and things like that," Canfield said. "Then you have all the other items like flower arrangements, pot holders, dish towels, Christmas ornaments, handmade wooden bowls and much, much more."
Some of the other items on sale at the bazaar include embroidered wall hangings, sweatshirts, Christmas wreaths, quilts, decorative plates, crocheted toys, blankets, scarves, hats and gloves, pillows and tabletop decor.
Randolph County Senior Center Director Laura Ward said some of the items for sale are things you just don't see any more.
"Because there aren't a whole lot of people out there who knit and crochet like they used to, you don't see much of that around like you used to," she said. "People can find a lot of that stuff to purchase at the bazaar. And the neat thing is that everything is handmade by people from Randolph County."
Ward said she is unsure of how many years the event has been held during the Forest Festival, but believes it has been around as long as the Senior Center building itself.
"The senior center has been hosting this bazaar during the Forest Festival for many, many years," Ward said. "It's not an official Forest Festival event, but we do it every year at this time. So it's part of what happens every year during the festival."