Edgar Kelley – Staff Writer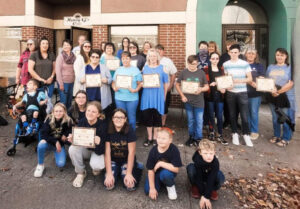 ELKINS — Our Town's Scarecrow Festival officially concluded on Saturday with the removal of mannequins, collection of painted leaves and a brief ceremony announcing the 2022 award winners.
Placing scarecrows throughout Elkins' downtown city streets has been a tradition for several years now, but it wasn't until this year that organizers decided to make it a full-blown festival, officials said.
Leaves were distributed for residents to paint and place downtown, while the festival itself included two new events, a "Scarecrow Scavenger Hunt" and the "Scarecrow Fall Festival Extravaganza." The extravaganza was held during Halloween weekend and featured an array of activities scattered throughout the downtown area.
"We had great participation from a lot of families and children during both our special events," Our Town volunteer Bobbi Trimboli told The Inter-Mountain. "The downtown merchants were anxious to open their doors to all the activities that were going on.
"I think we can do it again and possibly next year add a few wrinkles to all the activities we had this year. It will definitely make for another fun-filled Halloween weekend again."
Trimboli said the organization estimated that close to 500 residents came out for Saturday's extravaganza.
"One of the volunteers at the Methodist church told us that she gave out candy to 365 different people," said Trimboli. "I would say that we had a good 500 to 600 people come out. It was a very nice turnout and from the feedback we got was that people really enjoyed the trunk-or-treat, the hayride and all the wonderful activities we had."
This year's scarecrow winners included: "Grease" Davis Trust Company; "Lone Desperado" Leading Creek 4H; "Casey the Clover Guy" 4-H Teen Leaders; "John Lennon and Yoko Ono" Garver-Daniels Family; "Stitches" Mountain State Twirlers; "Mother Legacy" Legacy Insurance; "Picasso" Davis & Elkins College Art Students; "Scrappy Andy" Elkins Metal Recycling; "Harold the Happy Scarecrow" Mountain Heart Child Care Service; "Woodly" Mountain State Forest Festival; "Ruth Bader Ginsburg" Legal Aid of West Virginia; "Miss Vivian" West Virginia Caring; "Home Run Into Retirement"Mountain Valley Bank; and "Rosie" Alan Kerns.
"The creativity gets more and more every year and people really think of some neat ways to construct the scarecrows," said Trimboli. "It was hard to select the winners but our group tried to make choices based on youth, non-profits and businesses. We tried to take all of that in account this year so that everyone would get a nod for their participation."
Trimboli said Our Town had 17 leaves remaining that were not purchased back by their creators and that are currently available to purchase. She said several of the cutout leaves are plain and ready to be painted. For more information call 304-636-0415.