By Edgar Kelly Staff Writer – October 05, 2022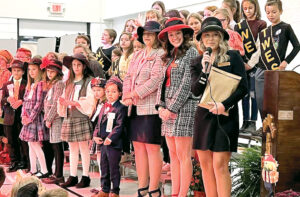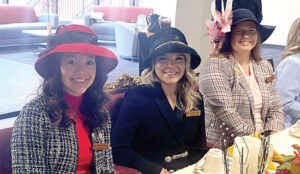 ELKINS — It's a decades-old Mountain State Forest Festival tradition: Maid Silvia and her royal court visiting Randolph County schools. On Tuesday, Silvia's caravan made several stops at schools throughout Festival City and beyond.
Caroline Fluke, the 84th Mountain State Forest Festival's Maid Silvia LXXXIV, was greeted with warm welcomes and an array of gifts during stops at North School, the Highland Adventist School, Coalton Elementary, Third Ward Elementary, Elkins Middle School, Jennings Randolph Elementary School and Elkins Mountain School.
At Third Ward Elementary, Fluke and her two maids of honor, Hannah Lee Phillips and Sarah Diane Riggleman, were not only serenaded by the school's choir, but the entire student body sang songs for her as well.
The trio also received gifts and were welcomed into the school's gymnasium by the MSFF trumpeters. The students were entertained by the MSFF jesters, who flipped across the floor when they were introduced along with the rest of the royal court by Queen's Department Director Tracy Gooden.
"Hello everyone, I'm so happy to be here today," Fluke told the students. "I'm so excited for the rest of this week and it has been awesome so far. I would love to see you guys around town at the parade or at the carnival. So if you see me, come up and say hey."
The queen and the royal court will continue with school stops today, as they visit Elkins High School (9:30 a.m.), the Randolph County Vocational Center (9:50 a.m.), Midland Elementary (10:05 a.m.), Tygarts Valley High School (10:45 a.m.), George Ward Elementary (11:05 a.m.), Beverly Elementary School (11:30 a.m.) and the Harman School (1:15 p.m.).
On Monday, Maid Silvia visited Elkins Christian Academy, Tygarts Valley Christian Academy and Pickens School. Fluke's caravan has been escorted by officers from the Elkins Police Department, the Randolph County Sheriff's Office and the West Virginia State Police.
This week's visits are leading up to the Royal Coronation that will take place Friday at the outdoor amphitheater on the campus of Davis & Elkins College. Fluke will receive her crown during the elaborate ceremony, which will feature 40 princesses from across the state, her two maids of honor, and her minor court.
Fluke is a 2019 graduate of Buckhannon High School and is the daughter of Eric and Jennifer Fluke of Buckhannon.