Marstiller was born and raised in Elkins and is a graduate of Elkins High School and Davis and Elkins College. In 1985 he began his career in financial services and in 1991 co-founded Innovative Investments, Inc. He earned his Certified Financial Planner designation in 1994.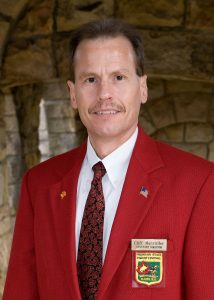 He was first appointed as an Assistant Director for the Mountain State Forest Festival in 2003 and continued to serve in that capacity through 2006. After serving as the Director General in 2007, Marstiller returned as Assistant Director in 2008 and 2009. Elected to the MSFF Board of Directors in 2008 he served as President of the Board in 2013/2014 and has been a member of the Executive Committee since 2009.
Marstiller serves on the Board of Directors for the WV Chapter of the National Association of Insurance and Financial Advisors, and is the current past president.
He is married to Sherri Marstiller is a member of Davis Memorial Presbyterian Church where he chairs the Capital Gifts Fund Committee and serves on the Finance Committee.
Other elected members of the Mountain State Forest Festival Board of Directors include Scott Harris, Bill Hartman, Hugh Hitchcock, Mike Karlen, Ray LaMora, Cricket Leary, Kathy Leombruno, Frank Santmyer, Ben Shaffer, Bob Wamsley and Bob Woolwine.
"It is an honor to serve as the President of the Board of Directors of the Mountain State Forest Festival and I am appreciative of the board selecting me to do so, "commented Marstiller. "I look forward to the continued support of the board and am very pleased to be working with Robbie Morris as the Director General of the 84th Mountain State Forest Festival. He has put together an excellent team of Assistant Directors that are excited to already begin working on the events for this year's fall celebration, Mountain Mosaic."
The state's largest and oldest festival is scheduled for September 26 – October 4, 2020.