Steel Placement at Amphitheatre Tops off Preparations for Mountain State Forest Festival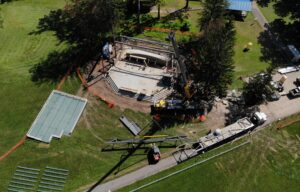 Elkins – A large crane hoisted steel roof trusses Tuesday for placement at the Citizens Bank of West Virginia Amphitheatre at Davis & Elkins College. The near-end phase of construction topped off preparations for the 84th Mountain State Forest Festival and began a new era for a facility that will serve the local community.
Renovations to the amphitheatre began in July with Applied Construction Solutions, Inc. (ACS) agreeing to perform the work within the nearly $275,000 budget as a community partner. Citizens Bank of West Virginia offered lead funding for the project while the city of Elkins allocated $43,746 and the Randolph County Commission voted to contribute $50,000, both sourced from their American Rescue Plan Act fund.
"The opportunity for Applied Construction Solutions, Inc. and its team members to offer our services for this project has been very exciting," said ACS President David Alvarez. "Many of our coworkers, Kenny Shaffer, Derek and Jeff Pritt, Greg Teter, Mike Elmore and Gary Muhlestein, among others are from Randolph County. They were able to contribute their professional talents and heartfelt efforts in making this project a success."
The newly designed amphitheatre will eventually feature a roof to allow for performances in inclement weather and lighting for nighttime events. In addition, the structure will have capabilities for a variety of production equipment. The concrete platform and steps were enhanced and an accessibility ramp was installed.
The structure will serve the community in multiple ways as an entertainment and event venue for locals as well as visitors.
For decades, the amphitheatre also has served as the site of the coronation of Queen Silvia. Alvarez's daughter, Kara, served as Queen Silvia LXXX when Davis & Elkins College Vice President for Institutional Advancement Scott Goddard was director general in 2016.
"The Mountain State Forest Festival has always had a special place in our hearts as it has for many West Virginians," "My daughter, Kara Alvarez, along with our friend Joyce Allen and our son-in-law, Clint Bennett, inspired my wife, Kim, and I to get involved in the Mountain State Forest Festival. Davis & Elkins plays such an integral part in the Elkins community and to the success of the Forest Festival. The building of this amphitheatre is a proud milestone for all involved and will touch the lives of many for years to come."
In addition to the coronation, several Forest Festival events are planned at the amphitheatre this year including the Highland Dance Competition, the Lumberjack Contest and the Country Music Show: Country on Campus Tour.
Plans for a dedication ceremony will be announced in the future.